Meeting worldwide standards
As part of its gloabl emissions strategy, Cummins Power Generation focuses on meeting or exceeding U.S. EPA and EU emissions standards, as these standards are the world's most stringent and all–encompassing. This strategy assures end–users of the best power generation solution for their application, regardless of country or continent.
Although many countries, including China, India, Japan and Singapore, now regulate emissions from stationary and nonroad diesel engines, these regulations vary from one country to the next. Industry organizations emphasize the need for harmonized standards worldwide — and regulations are trending in that direction.

Click Here to see an interactive emissions demo.
---
U.S. Spark Ignited EPA
New emissions standards for standby and prime spark–ignited generator sets
U.S. EPA standards for stationary non–emergency prime spark–ignited generator sets went into effect on July 1, 2008.
The effective date for stationary emergency standby units was January 1, 2009.
EPA definition of "emergency standby" is an internal combustion engine whose operation is limited to emergency situations and up to 100 hours a year for required testing and maintenance.
"Non–emergency prime" refers to internal combustion engines used for any other means than emergency, such as peak–shaving.
The overarching term "stationary" refers to internal combustion engines that stay at each site for 12 months or longer.
U.S. EPA stationary spark–ignited emissions regulations schedule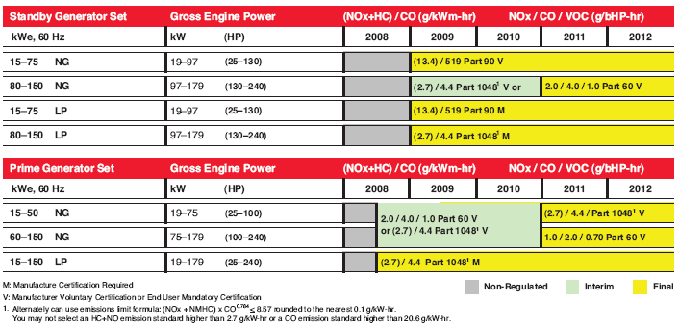 Cummins Power Generation emissions overview – Spark Ignited (14284kb)
---
U.S. Diesel EPA
On July 11, 2005, the U.S. EPA proposed emission standards that apply to stationary diesel generator sets. Beginning January 1, 2007, EPA requirements for stationary and nonroad (mobile off highway) diesel generator sets were become harmonized.
Cummins Power Generation has been in the forefront of the move to cleaner, quieter and more efficient diesel–engine–powered generator sets in compliance with these new requirements. Our investment in and commitment to developing cleaner, quieter and more efficient diesel engines for nonroad and stationary engines used in generator sets has achieved impressive results.

Cummins Power Generation was the first manufacturer to introduce Environmental Protection Agency (EPA) Tier 2 and Tier 3 generator sets to the market — ahead of the regulatory deadline.
Cummins Power Generation was the first generator manufacturer to introduce European Union (EU) Stage III– and Stage II–compliant diesel engines to Europe.
Cummins Power Generation is a recognized leader in new technologies that reduce engine emissions. Our innovative Cummins Quantum engine technology system focuses on in–cylinder design improvements that eliminate pollutants before they are formed.
As a result of this effort to reduce exhaust emissions worldwide, Cummins Power Generation diesel engine generators are not only very clean, but also retain all of their performance advantages without exhaust aftertreatment strategies that add cost and complicate maintenance for end users.
U.S. EPA nonroad and stationary diesel emissions regulations schedule
Beginning January 1, 2007, denoted by the red bar, all stationary and nonroad regulations have been harmonized. Emergency standby generators only have to comply with Tier 3 requirements and are exempt from Tier 4 Interim and Tier 4 Final regulations that require aftertreatment.



---
EU (European Union)
The European Union (EU) has established categories of allowable emissions in nonroad diesel engines called Stages I, II, IIIA, IIIB and IV. Each increasing Stage specifies lesser amounts of four specific pollutants that are permitted based on the number of grams per kilowatt-hour of the compounds present in diesel exhaust
These regulations primarily affect portable diesel generator sets (18 kWm to 560 kWm) and other nonroad and industrial engines. At the present time, the EU does not regulate emissions from stationary diesel generator sets such as those used for prime, peak shaving, load shedding or emergency standby power. All nonroad equipment, such as rental generator sets, are required to meet Stage II requirements effective 1 January 2007.
Nonroad emissions regulations schedule/EU
Portable nonroad gensets (i.e. rental) are required to meet Stage II beginning January 2007; Stage IIIA is noted at redbars. The EU does not regulate stationary or prime standby installations.


---
Global Literature
These brochures are in PDF (

) format; to view them, you will need Adobe Reader® software.
These technical papers are in PDF (

) format; to view them, you will need Adobe Reader® software.

Frost & Sullivan Recognizes Cummins Power Generation for Leadership in Emissions Technology Industry
Frost & Sullivan selected Cummins Power Generation as the recipient of the 2006 North American Diesel Engine Technology Leadership of the Year Award in recognition of its impressive advancements and market leadership in emissions technology and its presence as a major environmentally minded market participant. Read more directly from Frost & Sullivan (links to external site).
Cummins Power Generation offers a full range of product that meet EPA emissions requirements for stationary and nonroad (mobile off highway) applications and also for EU emissions standards for fixed speed diesel engines (generator sets) used as NRMM (Non Road Mobile Machinery) applications.
Please contact one of our distributors for more information.
Note: Our interpretation of the NSPS as it applies to stationary and nonroad diesel generators is believed to be accurate. However, do not rely solely on this document for compliance information.
Additional information on EPA emissions regulations from the EPA: Information for Nonroad Diesel Equipment