FOR IMMEDIATE RELEASE – 29 September, 2008
For further information, contact: Debby Wadsworth, 763–574–5395
Mobile, versatile and ready–to–roll 1600 kW and 2 MW Rental Power units are now available from Cummins Power Generation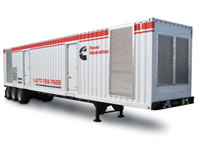 MINNEAPOLIS — Two new containerized and fully mobile Rental Power units are now available from Cummins Power Generation that create new power alternatives with not just one, but two generator sets, in a single sound–attenuated enclosure for jobs requiring 800 kW to 2 MW of power.
The new Rental Power C1600D6RG 1600 kW (two 800 kW generator sets) and C2000D6RG 2 MW (two 1000 kW generator sets) models offer more capabilities for customers. "These new dual unit platforms offer some unique advantages," said Larry Fetting, North America general manager, Cummins Power Generation Rental Business.
"First, for prime power critical loads the 100 percent redundancy gives you the versatility in providing power with one unit while the other is being serviced," Fetting explained. "Second, the configuration provides higher starting capacity, excellent fuel economy and a surprising cost–per–kilowatt value. And third, using two Cummins Power Generation platforms creates a unique opportunity for users to save time and money on training, parts, support and service."
Lee Ann Duvall, product manager for the Rental Business of Cummins Power Generation, added that the savings are "due in large part to the pre–integrated approach taken on product development at Cummins Power Generation, which means that all our products — whether 800 kW or 2 MW — are designed similarly and allow for the easy interchange of parts and service knowledge between units."
A temperature tolerant cooling system is also part of each system, and is designed to handle temperatures up to 122 degrees F (50 degrees C). In extreme operating conditions characterized by high heat, the cooling package enables the generator set to continue to operate at maximum load, which is critical to ensuring constant, uninterrupted power in temperatures over 90 degrees.
The new units also offer impressive operability when commissioned to environmentally sensitive areas, with dual–wall fuel tanks and 110 percent fluid containment to ensure protection against fuel spills. The units also meet Tier 2 emission requirements and contain an access ladder, which provides additional safety and convenience with the unit.
All Rental Power units include a control and generator set with Cummins components such as an engine and alternator. Industry–leading PowerCommand® controls — only available from Cummins Power Generation — are part of the new systems for performance and reliability. "Our products are designed to work together and backed by Cummins Power Generation's vast distributor network for service and support, which gives our customers added peace of mind," Fetting said.
Cummins Power Generation is an international supplier of Rental Power systems from 35 kW to 2 MW for prime, emergency, standby, peak shaving and distributed generation applications. Industries served include construction, data centers, entertainment, government, health care, hospitality, institutional, manufacturing, media, mining, oil and gas, retail, services, telecommunications, utilities and more.
Cummins Power Generation, a subsidiary of Cummins Inc. (NYSE: CMI), is a global leader dedicated to increasing the availability and reliability of electric power around the world. With more than 80 years' experience, its global distributor network delivers innovative solutions for any power need — commercial, industrial, recreational, emergency and residential. Products include alternators, generator–drive engines and pre–integrated power systems, combining generator sets and power control and transfer technologies. Services range from system design, project management, financing and operation and maintenance contracts to development of turnkey power plants.
For more information, contact Debby Wadsworth, Cummins Power Generation, 1400 73rd Ave. NE, Minneapolis, MN 55432. Phone: 763–574–5395; fax: 763–574–5811. Or visit the Web site at www.cumminspower.com/rental.