June 16, 2009
New 1500 kW Rental Power unit from Cummins Power Generation offers high fuel capacity in a complete climate-tolerant package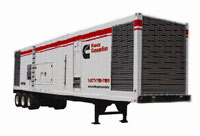 MINNEAPOLIS - A new Rental Power unit from Cummins Power Generation Inc. provides versatility in a complete pre-integrated system with increased fuel capacity and better fuel economy than competitive models.
The 1500 kW Rental Power unit adds to the Cummins Power Generation portfolio of Rental Power systems from 35 kW to 2 MW for prime, emergency, standby, peak shaving and distributed generation applications.
Some of the new product's key benefits include:
Climate tolerance: A temperature-tolerant cooling system provides reliable operation in ambient temperatures to 113 degrees F (45 degrees C), enabling the generator set to operate at maximum load without derating in a range of demanding climates.
Fuel capacity: The exceptionally large fuel tank, ideal in remote locations, is designed to hold approximately 1,600 gallons of fuel for a run time of 22 hours at prime power (75 percent load) before refueling. That translates to fewer refueling trips, lower operating costs and a smaller carbon footprint.
Environmental responsibility: The new Rental Power unit meets Tier 2 emission requirements and can be fueled with B20 biodiesel fuel. For operation in environmentally sensitive areas, the unit protects against fuel spills with a dual-wall fuel tank and 110 percent engine compartment fluid containment.
The new 1500 kW Rental Power unit features the workhorse Cummins QSK50 diesel engine with Cummins Generator Technologies' Stamford alternator. The engine, generator and monitoring controls are all designed and built by Cummins Power Generation to work together seamlessly, explained Larry Fetting, general manager, Cummins Power Generation Global Rental segment.
"This complete pre-integrated system results in reduced installation time and higher system reliability for our Rental Power customers," Fetting said.
Lee Ann Duvall, product manager for Cummins Power Generation's Global Rental segment, noted that the user interface is designed for simplicity. "We take into account that many of our Rental Power customers are not experts in operating power generation equipment," Duvall said. "This integrated generator set provides precise frequency and voltage regulations using message displays and an alarm message system in one easy-to-operate customer interface."
The unit's sound attenuation (74 dBA at 7 meters at full load) also is ideal for a wide range of applications where noise ordinances are in place, Duvall added.
Industry-leading PowerCommand® controls - only available from Cummins Power Generation - are part of the new system for performance and reliability.
"For over 80 years, Cummins Power Generation has designed, manufactured and supplied reliable, on-site power systems to keep our customers' operations running smoothly," Fetting said. "Today that dependable power is supplied and backed by our global network of distributors in over 190 countries, giving our customers the added peace of mind they expect from a world leader like Cummins Power Generation."
Industries the new 1500 kW Rental Power unit will serve include construction, data centers, entertainment, government, health care, hospitality, institutional, manufacturing, media, mining, oil and gas, retail, services, telecommunications, utilities and more.
Cummins Power Generation, a subsidiary of Cummins Inc. (NYSE: CMI), is a global leader dedicated to increasing the availability and reliability of electric power around the world. With more than 80 years' experience, its global distributor network delivers innovative solutions for any power need - commercial, industrial, recreational, emergency and residential.
Products include alternators, generator-drive engines and pre-integrated power systems, combining generator sets and power control and transfer technologies. Services range from system design, project management, financing, and operation and maintenance contracts to development of turnkey power plants. For more information, contact Madeline Foss, Cummins Power Generation, 1400 73rd Ave. NE, Minneapolis, MN 55432. Phone: 763-574-5942; fax: 763-574-5298. Or visit the Web site at www.cumminspower.com/rental.