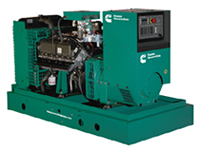 Our spark–ignited generator sets, 6.0 to 150 kW, are designed for applications that call for gaseous fuel options as a result of fuel containment, economic and emissions considerations, or compliance with local codes. These generator sets have fuel systems for both natural gas and propane, making them a convenient choice for a variety of life–support and related applications, including small health care facilities and retail businesses.
Features and Benefits:
A complete selection of voltages, accessories, generator set and control options are available for customizing to your application. Major features include:
Multiple control system options, including NFPA 110 compliance
Natural gas, propane or combination fuel systems
Weather–protective and sound–attenuated enclosures address environmental concerns for outdoor installations
Strong motor–starting capability and fast recovery from transient load changes to keep your site operational
Some models are available with optional closed–loop fuel control systems and three–way catalyst to limit emissions to 1.5 grams per brake horsepower–hour
Spark–Ignited Genset Literature:
These brochures are in PDF (

) format; to view them, you will need Adobe Reader® software.
Global Brochures
North America
Europe, Middle-East, Africa
Asia Pacific
Latin America
For information about our spark–ignited gensets contact your nearest distributor.
Click here to view our list of models and specifications.