Cummins Power Generation Newsletters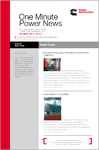 Below you'll find a listing of the e-newsletters we offer. Please take a minute to subscribe to our e-mail lists to stay up to date. You can sign up for each newsletter individually below.
If you missed an edition of your favorite newsletter, archives of all our past published newsletters are listed below, for you to browse at your convenience. The archives also feature Spanish, French and other language versions of specific newsletters. Please take a minute to browse and find newsletters of special interest to you.